`Masaru Kohno 1926-1998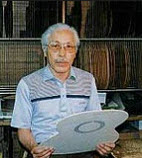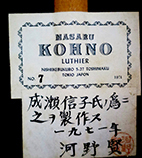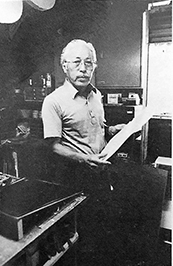 Ivor Mairants writes about Masaru Kohno in his book "My Fifty Fretting Years" published in 1980.
"In 1963 I first met Masaru Kono who has since changed the spelling of his last name to Kohno. He then produced a whole range of excellent classical guitars from No 2 to No 10, and when my order was delivered in London in the autumn, Julian Bream happened to come into the shop and asked if I had any "new machines" I showed him the Kohnos and it did not take long for him to select one of the lower priced models (about 80 pounds), take it away, and use it in concerts. He tells me he still has it and uses it.
The people who still may be wondering what caused the Japanese to become guitar makers may well wonder how Masaru Kohno learnt his craft. Well, during 1959 he went to Madrid and presented himself at No 12 Jesus y Maria, the workshop of Arcangel Fernandez, and, through a friend who spoke Spanish, asked if he could watch Arcangel at work, Arcangel, being a most friendly and straightforward person, did not object, and so the visits began. Masaru Kohno would often take Arcangel out to lunch or dinner, and generally treated him with great friendship which Arcangel reciprocated. Between interpreters and drawings, Arcangel's work was carefully noted by Kohno, and after visits almost every day for about six months, Masaru had seen enough for his purpose, and left Madrid to establish his own workshop in Tokyo. Ivor Mairants relates the story below without comment as it was told to him by Arcangel.
Masaru Kohno entered one of his guitars at the Liege Concours National de Guitares which was held September 10-19 in 1967, and won the first prize for guitar making out of 31 entrants. The chairman of the adjudicators was my late lamented friend Ignacio Fleta (who died in 1977) and he told me that when he examined Kohno's guitar (which of course was unlabeled at the time) he thought it was very much like his own." (On the judge's panel were, among others, Ignacio Fleta, Robert Bouchet, Joaquin Rodrigo, and Alirio Diaz, Noted French Luthier Daniel Frederich won the Silver medal in the competition, a sale of a Frederich in 2015 brought $60,000 US dollars).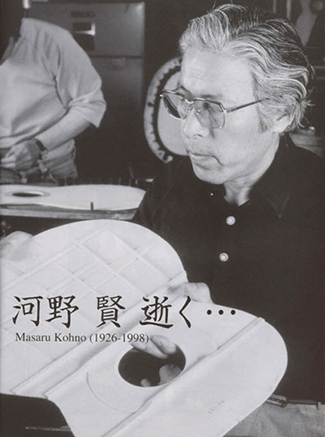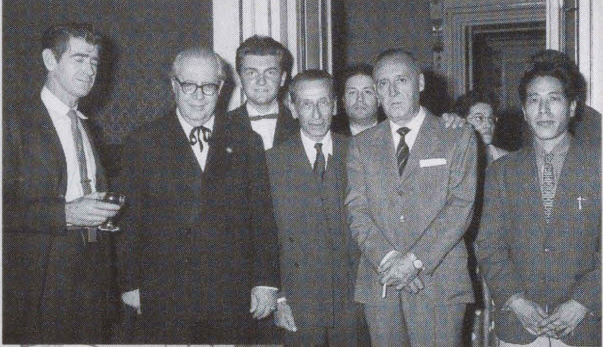 Kohno (far right) in Spain with Segovia, Tansuman, and Jose Tomas in 1960. At the seminar
of Santiago de Compostela (the capital of northwest Spain's Galicia region) Courtesy of Gendai Magazine

In the Development of Modern Guitar John Huber writes,
"Kohno, already considered Japan's best maker, studied in Barcelona with Fleta. Upon his return to Tokyo (1960), he buried the western stereotype of Japanese production by not showing the slightest inclination to merely make polite imitations of Spanish guitars. Indeed, he proceeded to challenge them for market supremacy. He developed his own "Torres" model, with a comfortable neck for hands smaller and less powerful than Segovia's and a strong voice with brilliant trebles and clear bases. It soon won the prestigious Queen Elizabeth prize for its tone. By the late 60's Kohono's guitars had won not only a worldwide reputation for consistent excellence at low price, but also a worldwide market for far more than he ever could produce himself. With the assistance of his nephew (Sakurai), he responded with a modern factory, which for the next two decades provided the world with a Ramirez alternative in quality. Kohno's segment of the market continued to increase until the mid-80's when a general decline in guitar sales, after an uninterrupted 30 year market expansion, restricted growth of both Kohno's and most other competing guitar makers. Similar to the situation in Madrid, where many craftsman can trace their origins to the Ramirez workshops, in Tokyo, many of the best independent guitar makers to emerge in the 70' were former Kohno employees."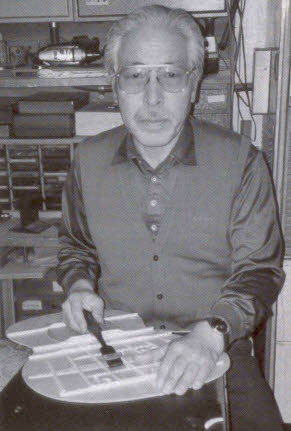 Courtesy of Gendai magazine
Bill Baker on Masaru Kohno
Over the years I have played several Fletas and remember a most distinctive aromatic smell inside the guitar. Not having known the above, when I purchased my first Kohno (a 1971 No 7) I held up the guitar and the scent transported me back thirty years to that same distinct smell the Fleta I played possessed. Its sound reminded me so much of the Fletas, that I wrote Masaki Sakurai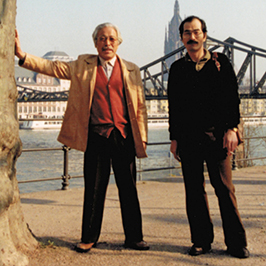 (Kohno's nephew and protégé) asking if Kohno had studied with Fleta. He wrote back confirming that Masaru Kohno indeed did study with Fleta. While we have a documented writing of the history of Kohno studying with Archangel Fernandez, little is known of Kohno's association with Fleta other than the fact that upon his return to Tokyo in 1960, not only did he bring back a Fleta to study, but the head design of his guitars changed to a style closely resembling the Fleta head, Photo courtesy of Masaki Sakurai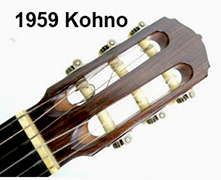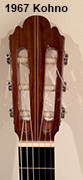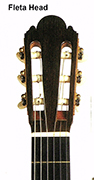 a drastic change from his 1959 head style, and nothing even remotely resembling Archangel Fernandez's head design. Fleta's comment at the Leige (Belgium) concours 1967 was he thought the unlabeled Kohno closely resembled his own guitars. It was apparent then that Kohno was an international master builder. Ignacio Fleta, Robert Bouchet, Joaquin Rodrigo, and Alirio Diaz agreed giving Kohno's guitar first prize in a field of 31 competitors that included Danial Frederich.
I have owned many Kohnos and they have all been concert quality guitars. The guitars offered on this site are top-level concert guitars at an affordable price for the player that appreciates a vintage instrument with minor cosmetic flaws. My background includes 40 years of guitar playing, a BFA in classical guitar performance from the University of New Mexico, four summers of playing and studying under Emilio Pujol at his International Course of Guitar Lute and Vihuela in Cervera Spain. Associate professor under Hector Garcia at UNM, numerous recordings, and concerts. I play with fingertips so the sound will be somewhat different than those who play with fingernails. The sound recordings of the guitars are my own.
As Kohno grew his business over the years his numbering system changed. First he started with simple numbers like 421 and 821. I suspect those numbers stood for finish dates 421 being April 21. Then he started model numbers like no 4, no 5 no 10 etc. Where the number reflected the price in Japanese yen. As time passed the numbers grew in size to reflect new pricing. So a model No 30 would have been 300,000 yen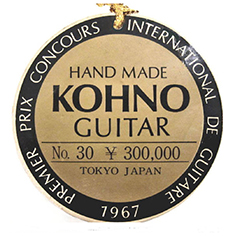 and a model No15 would have been 150,000 yen. I suspect he did this because of the high level of inflation in Japan in the early '70s and the increase in demand for his guitars. He needed to raise his model numbers to keep up with the changing Yen value. The numbers grew to a No 50 model and finally a number 80 model. Around 1982 he began calling his models, Maestro, Special, Professional, and Concert. While the numbers reflected the fanciness of the guitar, the sound quality of the instruments wasn't necessarily better as Julian Bream proved when he chose a lower priced model number out of a batch of Kohnos in Ivor Mairants's shop. My good friend and renown painter Manuel Lopez Cia would comment at shows when people would stick thier noses up to one of his works. "Paintings are meant to be seen, not smelled." The same can be said of vintage guitars. They are meant to be heard and not nitpicked for cosmetic flaws. You want structural integrity, playability and sound to be the driving factors in your decision to purchase any vintage guitar.
Guitars improve with age, but more than anything else they improve by being constanty played.
.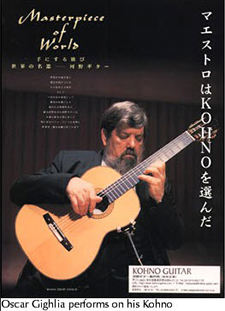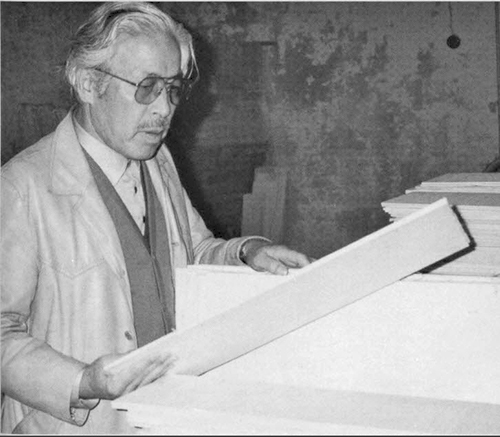 Below is courtesy of Dave Tate
"Masaru Kohno (1926-1998) is not only the most important luthier to emerge from Japan, but also one of the best worldwide. He was born in Mito City, Japan, and in 1948 he graduated from the Tokyo College of Arts and Crafts with a degree in woodcraft. It was during this time that he became interested in guitar construction, and in 1959 he traveled to Spain to learn the craft.
Kohno apprenticed for six months at the workshop of Arcangel Fernandez, and although neither could speak a word of the other's language, they managed to communicate. Kohno's apprenticeship consisted mostly of sitting in the back of the shop and quietly–-but attentively--observing the master Fernandez at work.
Kohno's quiet learning paid off. Upon his return to Tokyo he established his own workshop and quickly gained recognition among Japanese guitarists. His international debut came in 1967, when he was awarded the Gold Medal at the Elizabeth's Concourse International Guitar Building Competition in Belgium. On the judge's panel were, among others, Ignacio Fleta, Robert Bouchet, Joaquin Rodrigo, and Alirio Diaz.
Since then, many players of world renown have used Kohno guitars; among them are Julian Bream, Oscar Gighlia, and Sharon Isbin, to name a few."


Photo courtesy of Gendai magazine.
Graham Wade writes in The Classical Guitar Complete History
"A wide variety of recitalists have played his guitars, including Julian Bream, Vladimir Mikulka and John Mills. Both Sharon Isbin's Classical Guitar Vol II: Bach, Britten, Brower and Martin Mysilveck's Umlecky Portret Martina Msylivecka, (Panton, 1981) were recorded on Kohno guitars. Frederic Zigante is currently using a Kohno guitar in concert and on his recordings which include the complete guitar works of Villa-Lobos and Paganini. He is currently professor of guitar at the Conservatory of Trieste, Italy, and has concertizes over Europe, Japan and China.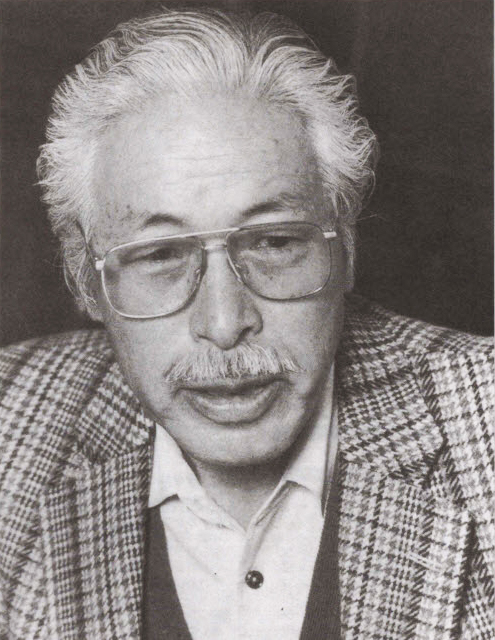 Photo courtesy of Gendai magazine

James Bishops-Edwards writes this on Kohno
I think Kohno was making a more playable and musical guitar than the 70's and 80's Ramirez, but you can see the influence in the string length, ebony neck reinforcement strips, and other nuances. I had a 1982 664mm string length Ramirez that gave me tendinitis which was seriously debilitating, and my hands are good sized and fingers are sturdy. I like a good Ramirez but the influence of Segovia's big hands on the neck width and string length was a bad turn in the history of guitar making. Many people struggled, and still do, to play the Spanish 2x4 neck of that period. Kohno must have been influenced by the marketplace, but he made a more interesting and playable guitar than the Spaniards within that paradigm, in my (newly formed) opinion. I studied for awhile with Ray Reussner, who studied with Segovia in the 60's and beyond. He said he asked Segovia once why he switched from the Hauser to Ramirez, and although I'm sure Spanish pride had something to do with it, Segovia's answer was the Hauser neck was too small now. So one man's large hands influenced a generation of Spanish makers; wild. I remember a Japanese student of Parkening's in the 70's struggling mightily with his big Ramirez. On the other hand we're lucky; if Segovia had started touring the world with a new Kohno in 1963, the 60's Kohno's would be (if you could get one) in the $40,000 and up price range. So we can thank the Spanish tradition for the part it played in Kohno's work, and Segovia for distracting the world in the direction of Ramirez. :) Thanks again for your website and knowledge; I was fortunate to discover it.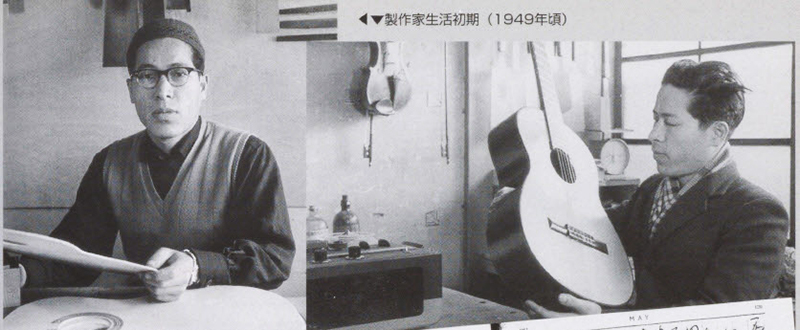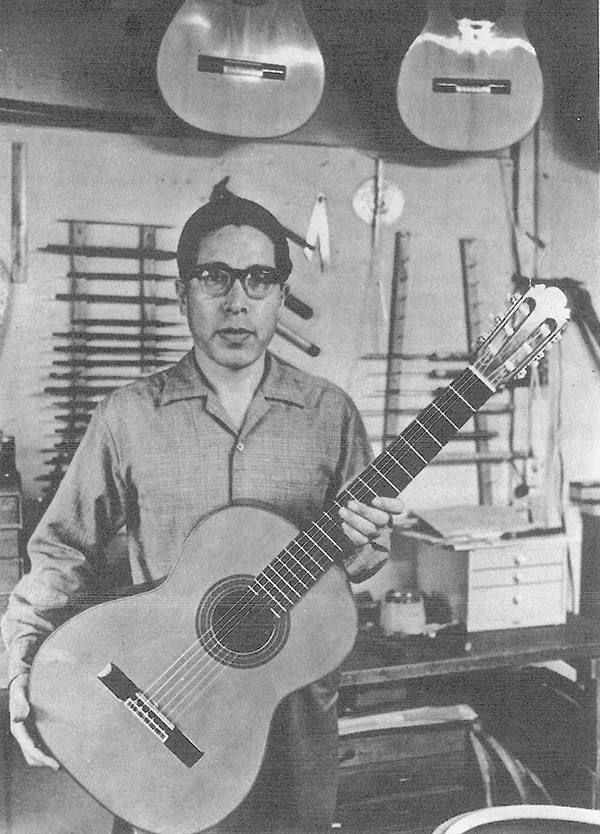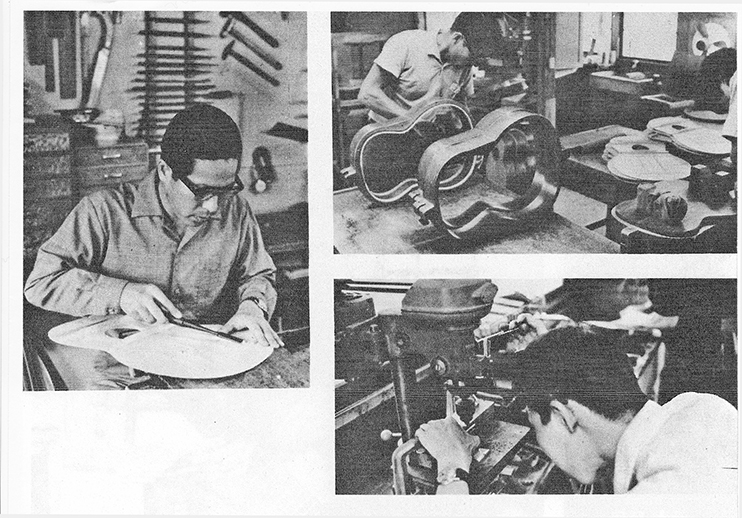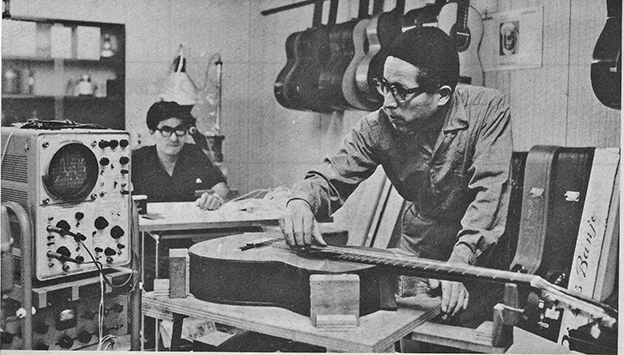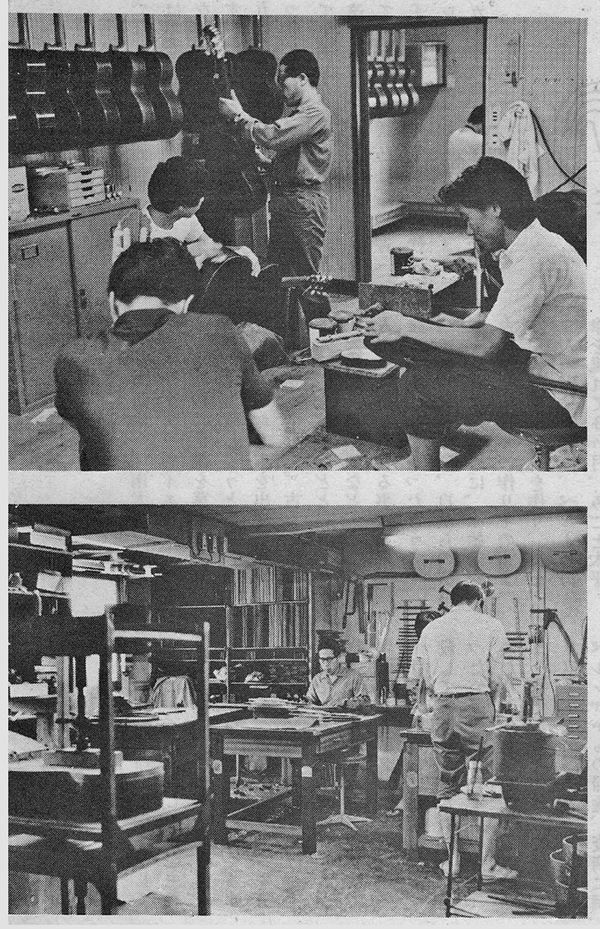 Photos courtesy of Gendai magazine
In his book A Collection of Fine Spanish Guitars from Torres to the Present author Sheldon Urlik quotes Maurice J. Summerfield as placing Smallman on the continuum of guitar developement with Torres, Manual Ramariz, Hauser I, Fleta, Kono (Kohno), Rubio and Romanillos. Summerfield's book is entitled The Classical Guitar - Its Evolution, Players, and Personalities since 1800. A 1963 Kohno is featured on page 110 of Urlik's book.
Summerfield further writes "Masaru Kohno who died 13 December 1998 is regarded as one of the most important of the 20th century classical guitar makers.."
Below is the chart from Maurice Summerfield's book mentioned above.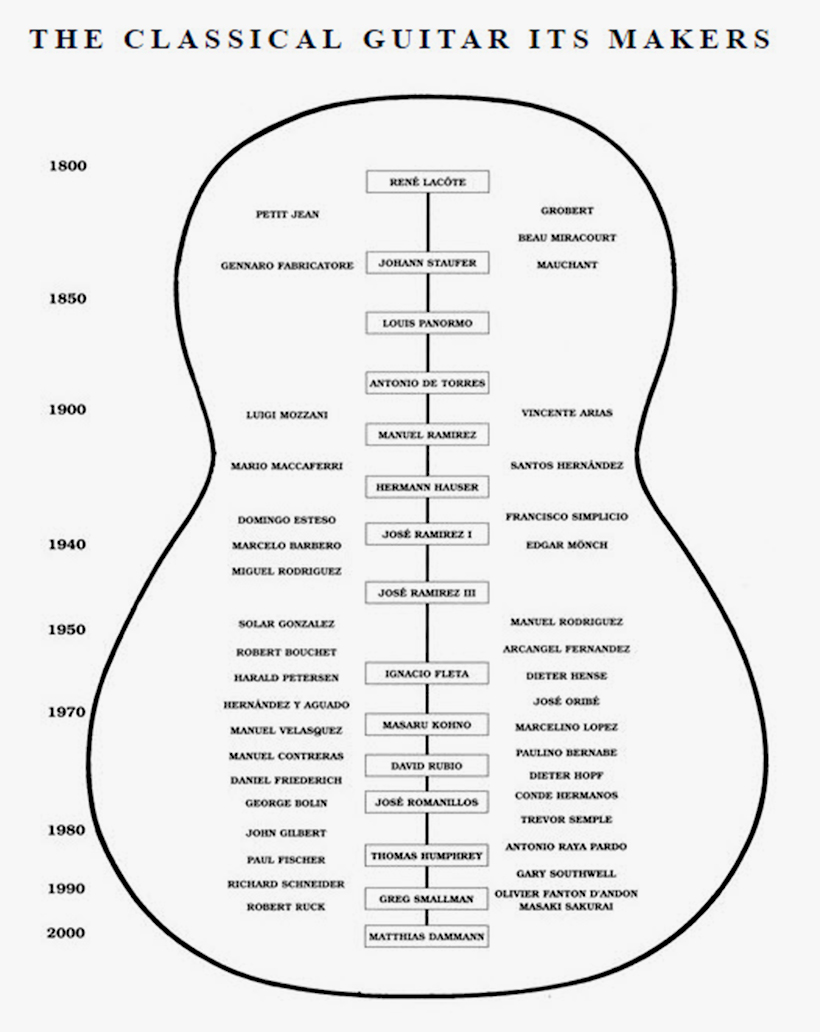 Photo courtesy of Maurice Summerfield
The guitars from 1961 thru 1974 were built in the smaller Kohno workshop prior to his opening the 4,000 sq ft Toyko workshop in 1975 when production and demand resulted in many guitars being produced, similar to the Ramirez shop. There are many myths about Kohno such as when he built with cedar and when he introduced Brazilian rosewood. One thing I have learned studying Kohno was that he was ever evolving, changing bracing patterns and materials. His most expensive models had better and longer aged woods, better quality tuning gears and fancier rosettes and bindings. In 1975 he began to sign his labels on the top model, No 30. Prior to that there are a few prized guitars with his seal. These were decitated or gifted to a special few and are rare indeed.
.
Purchase a guitar with confidence.
We accurately rate our guitars on quality of sound and appearance. Our guitars are carefully examined and assessed. Any repair work if needed is completed by a master luthier. Recordings of each instrument enable you to choose the best guitar for your collection.